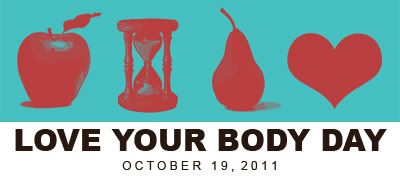 Today I will be participating in the Love Your Body Day that
Ashley from Two Eyes in the Mirror
started. Go to
Ashley's blog
to read her post and see who else participated. Find out how we are all celebrating our bodies today.
When Ashley first suggested this topic, I was hesitant to participate. If I talk about what I love about my body, that means I need to revisit how I got here. Which means bringing up some painful feelings that I continue to struggle with on a daily basis. But the best way to deal with these things is to confront them head on, right?
I've always been an athlete. As a child I was a gymnast and a runner. I started to notice that my friends and I didn't share the same body type. My thighs were bigger. Much bigger than my friends. I remember when I was 8 years old, sitting next to my best friend in church. Our legs dangling beneath us, flattened against the wooden bench. I thought, "Wait a minute, why are my legs so much bigger than hers?" And that's where it all began; comparing myself and my body to others. It wasn't just the comparing, it was how I accepted their bodies as the norm and my body as the odd and strange one. To this day I struggle with comparisons.
Here's what I know to be true. We are all different. My body is different from yours. But that doesn't mean that mine is somehow below standard or not normal. I did that to myself. I told myself that and then I believed it. So, I take responsibility for how I feel about my body today. I love every part of it. Even when I feel down, I know that it's up to me to feel better.
I love my strong legs and my athletic body. If I wasn't so strong I could never do this:
Or this:
And I'm proud and confident and celebrate my curves and my muscles. Because that's me. That's who I am. And I love this body!
Now it's your turn. Love the body you're in. Don't waste a second of your life telling yourself bad things about your shape. We are in charge of how we feel about ourselves. Remember that when the hormones kick in or your day gets difficult.