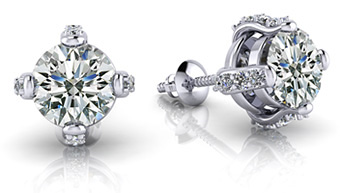 Anjolee asked me to review their jewelry. They let me select something to keep and I chose these diamond stud earrings pictured above (photo not of the ones sent to me. photo from their website). They are gorgeous. For me, the setting is a bit too large and sits out too far from my earlobe. But they are absolutely stunning earrings.
You can choose your own price by choosing the size and brilliance of the diamond as well as the type of metal. As you go, the price point changes according to your personal selections. Pretty great, really. I can't speak to the quality of diamonds because the free pair they sent me were made of CZ.
Here are three links to get you started on buying your own custom jewelry.
Diamond necklaces